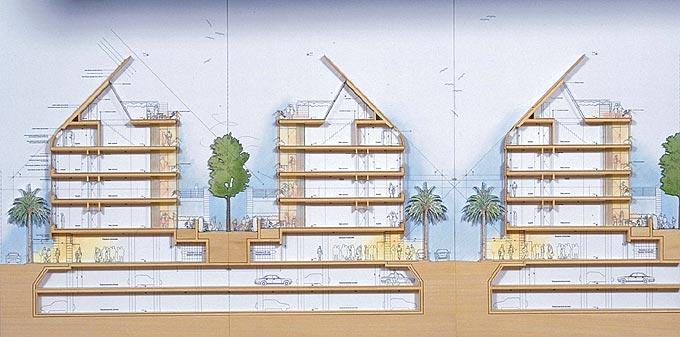 (Fotos: Site Renzo Piano)
No "site" do atelier de Renzo Piano, pode ler-se o seguinte:

"The « Braço de Prata » residential and shopping complex in Lisbon is as much a urbanistic as an architectural project. Located in a "black hole", an empty area of the city which used to be an industrial zone, this projects aims to create ex-nihilo, and to link to the city, an area in mutation, halfway between Lisbon's centre and the 1998 Universal Exhibition site. If the aim of the project is to transform it in a lively place, the industrial memory will be an inspiration for the project.

The original site was occupied by an industrial estate, whose grid was very strong, composed of various, dense manufactures, perpendicular to the nearby river. The use of the land change, but its trame will remain the same. The streets of the complex will be equally dense, like the ones in various European cities historical centres; the streets will go down the site slope towards the river, point of meeting of the street and of the view.
Streets will be parallel, though not uniform. In many points, they will "broken" by a series of transversal roads, in order to avoid the huge impersonal residential estates touch. The most important of these streets will go through the area in its middle, parallel to the river, and will be the spine of the project, the high street, with shops, passers-by, through which will go municipal public transportation.
At that stage of the project, buildings are inspired by the Lisboan tradition. On the street, these blocks will be both simple and luminous. They will be very open on huge inner yards: the living area gets even lighter when one goes from the public to the private area.
Public roads will also be re-defined, to allow better circulation in the new area. It has also been thought to suppress the express lane on the bank of the river, in order top create a promenade instead for the future residents and passers-by, creating a new link between the river and the site.
Vegetation will be an important aspect of the project. Some 1700 palm trees will be planted, to create vegetal density which does not exist yet, which will bring a special touch, as well as shadow, to the area. On its outskirts, in its streets, at the crossroads, vegetation will be everywhere. It will thus create a new grid which will complete the urban grid, born from the memory of the former industrial site."